8 weeks until the RYA Dinghy & Watersports Show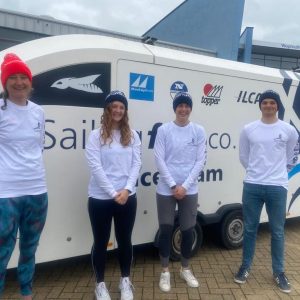 Sailingfast is thrilled to be kicking off our 2023 season with the RYA Dinghy & Watersports Show at the end of February. With just under 8 weeks to go, the Sailingfast Team will be enjoying their 20th anniversary celebrations with a stand to rival our previous efforts.
So what can you expect?
In addition to our display of WASZP one man foiling dinghies, you can expect a couple of ILCA dinghies from different manufacturers, along with some of the RS Sailing range of boats AND a more complete chandlery offering. Namely, PFDs and Dinghy Boots from Zhik and Vaikobi, available for you to try on and at special Sailingfast 20th birthday prices.
New for 2023, you will also find top end equipment from the paddleboarding and Wingfoiling side of the business. Both sports have really exploded during, and since COVID and we are excited to be part of both scenes.
Who is on the stand?
With a number of our Sailingfast Team riders available to chat to you about their respective classes, Duncan will be on hand to advise on boat and trailer lead times and delivery while Emma never misses an opportunity to talk about her passion for paddleboarding, both social and racing!
The RYA Dinghy Show is when our minds turn towards the season ahead. Normally, an opportunity to grab a few bargains, catch up with friends and perhaps learn a thing or two.
Some of boats we look after are:
The ILCA sailing dinghy is built in the UK by well-known builders Ovington Boats and is class-legal for all National and International events. If you would like to read more about debunking the ILCA/Laser jargon, please head to the blog page of our website.
The foiling sensation of the WASZP is totally amazing and once you have tried it, you'll be hooked! The WASZP is the most eagerly awaited and talked about one-design dinghy in generations. Various sailors during test flights have managed to foil after only a few minutes in the boat and come away enthusing about how much fun they had.


RS Sailing designs have built some of the most vibrant class communities, been chosen by leading organisations globally and that from humble beginnings RS Sailing have become the world's largest small-sailboat brand.
Whether you are looking for spares, or boat packages, please follow the links, or contact the office on 01324 861 756 to talk to a human being.




Dinghy Show Offers
Enjoy 10% off your entry to the 2023 Dinghy & Watersports Show using code: RYAEX23081.
Customers looking to order new boats during the weekend can look forward to a wee incentive as well – details will follow on our social media platforms during the course of the weekend. To take advantage of any Dinghy Show-related offers, keep your eyes peeled on our website and across our social media platforms.
Pop by the stand for a chat to find out more, or drop us a line on 01324 861756 or via email [email protected]
---