Sailingfast are looking forward to the 2021 sailing season with great hope. Even before the virtual RYA Dinghy Show this weekend, the phone has started ringing with customers excited to be getting back on the water as soon as possible.
With the Roadmap to Recovery announced by the Prime Minister, a vaccination programme well under way, it looks as though life may return to a semblance of normality. We anticipate the summer sailing calendar will be dusted off and put back on the table.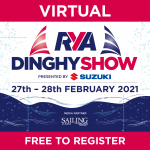 The RYA Dinghy Show is when our minds turn towards the season ahead. Normally, an opportunity to grab a few bargains, catch up with friends and perhaps learn a thing or two.
The good news is, despite COVID, the RYA are hosting a virtual Dinghy Show which will be free for visitors to attend. The Sailingfast team are supporting the event by taking a virtual stand and will be available all weekend. Emma and Duncan will be on the Sailingfast stand, ready to answer any questions you may have.
Some of boats we look after are:
WASZP
The foiling sensation of the WASZP is totally amazing and once you have tried it, you'll be hooked! The WASZP is the most eagerly awaited and talked about one-design dinghy in generations. Various sailors during test flights have managed to foil after only a few minutes in the boat and come away enthusing about how much fun they had.
Mackay 420
One of the attractions for us with the 420 is its universal appeal as a class. It has always been popular and it always will be. There is something about the boat that attracts the youth to it. We think it's got to do with how post-opti kids can relate to the size of the boat and it's sail plan, while providing them with all the thrills they could ever wish for in varying wind strengths.
Dinghy Show Offers
To take advantage of any Dinghy Show-related offers, keep your eyes peeled on our website and across our social media platforms. We will have offers running on the following brands:
Customers looking to order new boats during the weekend can look forward to a wee incentive as well – details will follow on our social media platforms during the course of the weekend.
Pop by the stand for a chat to find out more, or drop us a line on 01324 861756 or via email info@sailingfast.co.uk