Sailingfast are delighted to sponsor the Laser/ILCA Nationals 2020. After a very long summer of lockdown, little sailing and no events, the Nationals will take place at the Weymouth & Portland National Sailing Academy.
In addition to supplying the prizes on two of the days, the Sailingfast Mobile Shop will be on hand to support the sailors. Duncan will have a range of class-legal, official kit ranging from spar sections, sails, to toe straps, wind indicators and watches.
FREE DELIVERY TO THE NATIONALS
If you would like to take advantage of free delivery to the event (especially if picking up longer items which are expensive to ship), please place your order online and select 'collect from shop' as your shipping option. The mobile shop is a big white branded trailer as shown here.

****LAST ORDERS**** Thursday 20th August by 11am. After this time we will be preparing the van and trailer so Duncan can head south on Friday.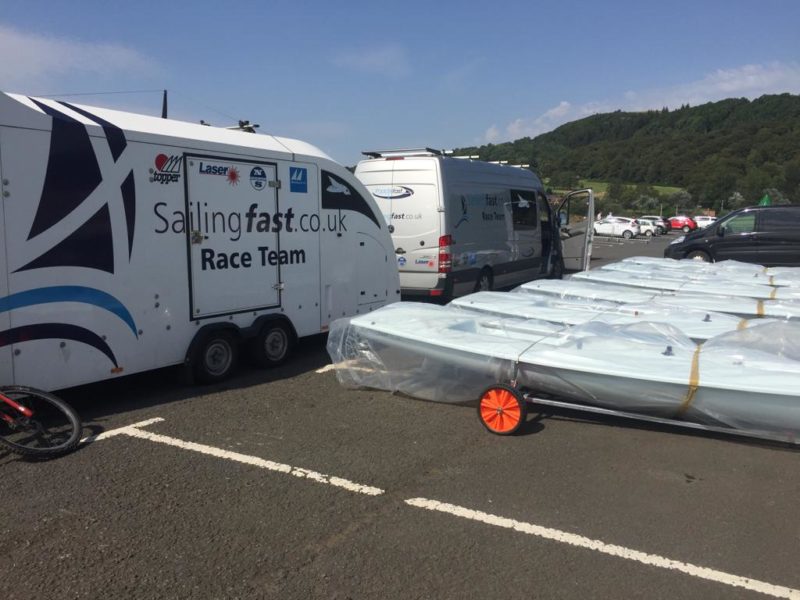 Collections – we aim to be flexible depending on the sailing conditions, briefing times, etc. If Duncan isn't at the mobile shop he will be back soon. You may find him in the dinghy park, helping another customer.
EVENT DATES
Sunday 23rd August: Standard & 4.7 Registration & Briefing
Monday 24th August: Standard & 4.7 Race Day
Tuesday 25th August: Standard & 4.7 Race Day
Wednesday 26th August: Standard & 4.7 Race Day & Prize Giving, Radial Registration & Briefing
Thursday 27th August: Radial Race Day
Friday 28th August: Radial Race Day
Saturday 29th August: Radial Race Day & Prize Giving
As ever, if you are unsure about what to order, please drop us a line on 01324 861 756 to speak to Duncan or Emma about what you are looking for.