In the run up to Christmas, there is an overwhelm of amazing things that you could get the sailor in your life as a present. Sailingfast have rounded up a top 10 gift list of useful sailing presents with a price tag for every budget.
Keep a hold of your control lines and stay warm on the water with our selection of dinghy sailing gloves.
Keep your head cosy in the dinghy park or on the water with this Sailingfast Bobble hat. Made in the Scottish Borders, these guys know a thing or two about keeping your head warm!
The best watch on the water / market. Make sure you arrive at the startline on time.
Hydration is key to your performance. Just make sure to tie it securely to your boat in the event of a capsize!
We can't all be on the water all the time. Why not grab the updated racing rules for a little winter homework session? Too intense? Grab the condensed flip companion – a perfect stocking filler.
The future is foiling! Fun and facts about the newest angle to our amazing sport. Find out what all the fuss is about with top tips and examples from experts in the field.
Know where you are going or want to be going. Robustly-made wind indicators from a variety of manufacturers. Alternatively, if you just need to replace the vane, these are available separately.

Heat resistant and long lasting, Marlow's R8 is our current go-to ropes for control lines and mainsheets. This rope uses a Dyneema® sk78  core but with an 8 plait cover, blended from Technora®  aramid and polyester.
Protect your dinghy from stone chips while travelling, or the worst of the weather by treating her to a new set of covers.
Go faster, sail higher & improve your sailing skills with Sailmon MAX. Sailmon MAX is the number one training- and racing instrument on the market.
Still not sure what to get the sailor in your life? Why not pick up a Sailingfast Gift Voucher so they can put it towards something they really need? Vouchers start at £5.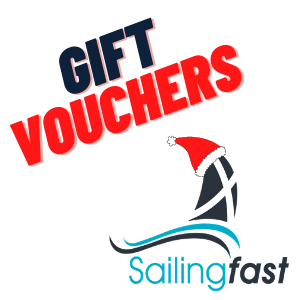 We would be very happy to talk you through some options based on the type of dinghy they sail and your budget. Just drop us a line via email info@sailingfast.co.uk or by phone on 01324 861 756.